Do any of these headlines sound familiar?
"How to get your calendar chock full of appointments every week."
"How to scale your advisory business to $1B."
"Case Study reveals: How to close 3-4 new clients every week."
"Ditch cold calling and referrals."
"The secrets to bring in $5M in AUM every month."
Lately, I and many of the advisors in our community have been getting bombarded with ads on social media feeds that are making big, bold audacious claims.
After doing a fair amount of research and digging around, I figured now would be a good time to share my perspective on what I'm calling, "the rise and proliferation of the self-proclaimed marketing guru."
Pretty much everywhere you look online, you'll find no shortage of "marketing coaches, consultants or gurus" promising to help you scale your business to over $1B in AUM.
The ads look something like this: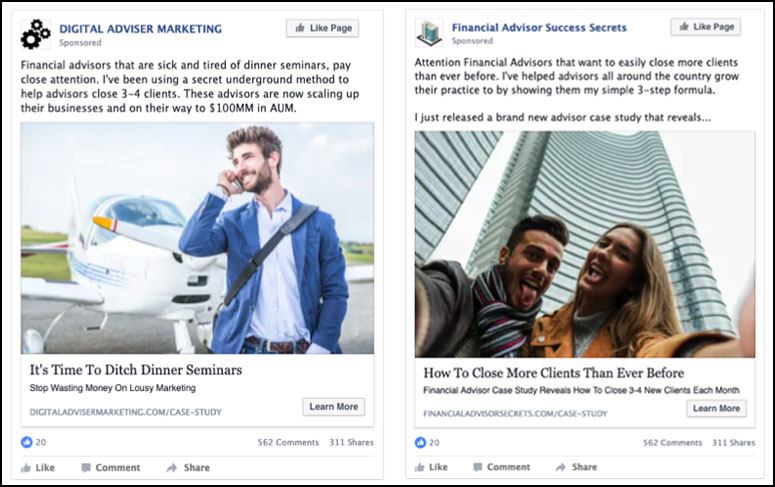 The ads typically consist of a young guy posing in front of a fancy building or jet setting around on planes living the high life and promoting a case study video that promises to reveal the secret strategies to close more clients using digital marketing.
Don't get me wrong, I think these ads have killer headlines and copy and I'm actually going to be testing a similar sales funnel for our own projects, so I definitely want to give props where props are due.
I think the issue at hand is really…
"Do these digital marketing consultants live up to the hype?"
Which is why we recorded a brand new episode last week to dive a little deeper into this controversial topic.
It's basically a "Public Service Announcement" for advisors that want to hire marketing consultants or gurus to help them generate leads online.
Although the title sounds braggadocious and somewhat controversial, my intention is to share some of the insights I've discovered over the last decade and the warnings you should heed before you hire any marketing consultant or "guru".
In this episode we talk about:
A quick history of the digital marketing industry and how one trendy fad has lead to another and is now flooding our financial services industry.
What is the "High Ticket Coaching" industry, and w

hy financial advisors are the perfect target for unscrupulous internet marketers

.
What to expect when you hire a High Ticket marketing coach or consultant.
How to verify if advisor testimonials are actually legitimate (just smoke and mirrors).
Why marketing consultants would rather teach you to build your own marketing campaigns than actually be hired to do it for you (the answer is pretty obvious).
How this new breed of marketing coaches is actually helping our industry (the answer may surprise you).
How FMOs/IMOs and RIAs will have to move toward a new marketing model of the future (and how it's already happening right now).
Why here at Advisor Internet Marketing, we're moving away from marketing coaching and consulting and into the Done-For-You business (and how you can learn more about it).
So we hope you enjoy this episode as much as we did recording it for you. Oh and by the way, if you happened to miss our 4-question survey, be sure to take a couple of minutes and fill it out.
I'm going to be inviting selected advisors to learn more about our 100% Done-For-You Annuity Leads program. We're only going to be reaching out to advisors that take the time to fill out our 2-minute survey to learn more about receiving our annuity leads.



Links And Resources Mentioned In This Episode:
---
Have you subscribed to the Advisor Internet Marketing Podcast on iTunes yet?
Click here to subscribe for free and receive every new episode automatically.
If you loved the show, please click here to leave a review and let Apple know!
Thanks so much for joining us for this episode. Have some feedback you'd like to share? Leave a note in the comment section below!
If you enjoyed this episode, please share it using the social media buttons you see at the bottom of the post.
Thanks for joining us, until next time!